Visual Resources Librarian
Susan DeMaio Smutny
contact demaios@newpaltz.edu or text 469-363-8340
---
Visit Solstice Instructions to find out more about this collaborative software!
View the short video below to get started, and then book a study session at vrstudyroom.youcanbook.me
Link to the Visual Resources Library Solstice how-to information here.
---
Check the slideshow of the Art History Department's highlights!

---
Solstice Wireless Collaboration Software for student exam review!
Other tools we now support are those developed by ARTstor for studying with their image groups. Look for presentations in your classes, or contact me and I'll be happy to give you a tutorial.
I look forward to working directly with more students than ever!!
There's also lots of Art History activity this semester. For the second year we'll host a Careers in Art History alumni panel to offer students a chance to become more informed about career opportunities and to network.
Art History continues to celebrate the centenary of the birth of the department's founder, Prof. Hugo Munsterberg, with an Art History Association Symposium on African Art. Prof. Munsterberg tirelessly advocated for teaching world art in the Art History department he founded in 1970. Join us on Thursday, April 6, at 7pm (room TBA). Confirmed speakers include Dr. Christine Mullen Kreamer '75 of the National Museum of African Art (Smithsonian) and Professor Ikem Okoye of the University of Delaware.
---
Study for Finals with Solstice: Extended Hours Through Finals
Do you have a study group for art history? Need a place to study during study days from December 13-15?
Use Solstice Wireless Display Collaboration Station in the VR Study Room, SAB 106C! Wirelessly view content from phones, tablets or laptops to a large, shared display!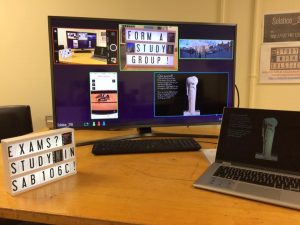 End of Semester Availability (booked appointments ONLY):
Mondays-Fridays 9am-9pm
Saturday and Sunday 10am-5pm
Visual Resources Study Room: Student-Centered Gathering Place
On September 14 we inaugurated what we hope will be an annual Founder's Day/Welcome Back Event for faculty and art history students.
For Fall 2016, SAB 106C got a facelift with new paint and carpeting. A Founder's Day Party was held on Wednesday September 14 in honor of Dr. Hugo Munsterberg, whose Centenary the Art History Department is celebrating this year.
The room also boasts a new collaborative study station. The set-up includes new Solstice software that can wirelessly display content from up to four concurrent users, and a 40 in. flat-panel Samsung 4K-UHD TV screen.
Use the collaboration station in SAB 106C to share your own content for:
Meetings for Group Presentations
Midterm and Finals Exam Study
Art History Association and other displine related club meetings
Follow this link for more information and to reserve your own study session with our online form!
---
Art History Website Gets a 'News' Page
This Spring, websites in the School of Fine and Performing Arts were updated and are now running on a new web management system platform, TerminalFour. We got a chance to add some content, so check out our 'News' page frequently for updates! Here's a screenshot that features a recent event: an unusual talk focusing on Andy Warhol from the perspective of a close relative, his nephew James Warhola. Mr. Warhola is a noted author and illustrator in his own right.
---
Open House 2015
This year Profs. Carso and Heuer greeted prospective students. Prof. Heuer provided the Halloween candy. Yum!
ALUMNI REUNION WEEKEND 2015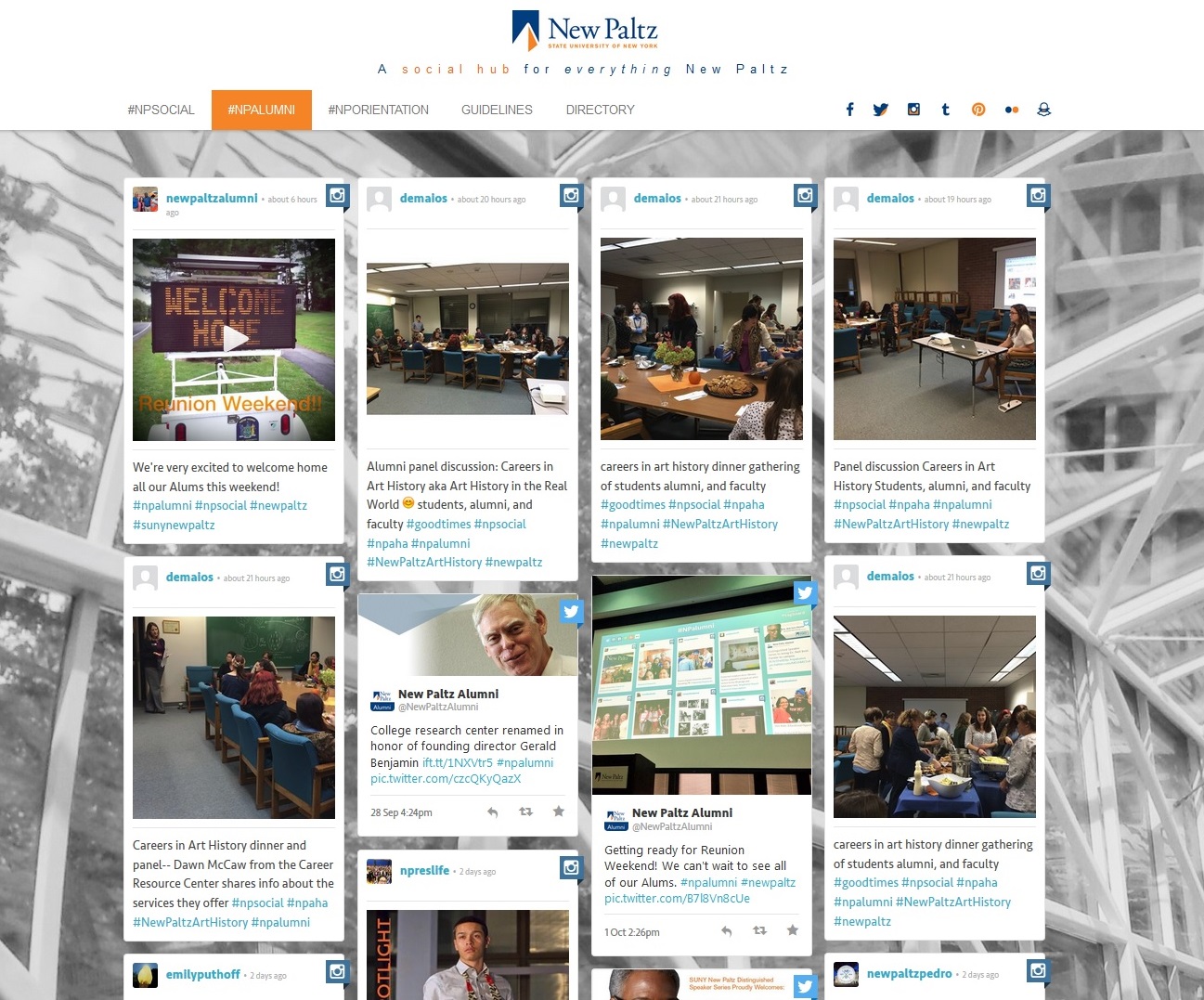 Welcome Back to Campus!