New Image Records are being added all the time to the NPVRC
To begin using the New Paltz Visual Resources Collection, log in with your NP User ID and password.
Click on Search in the menu bar. Enter any term (artist name, keyword from any object type, title, style, location or repository).
To begin saving images click the Basket Icon (upper right corner) and click on 'Show' from the drop down. NPVRC will remember this setting the next time you log in.
From your search results, check the boxes, upper right, to select.

Note that thumbnails will appear in your basket.
View individual image data by hovering over the Info icon, lower right, for pop-up image data
Click on the any thumbnail to view a larger version of an image.

You can save images you 'collect' by selecting Create Presentation from the Organize menu.
Create New Presentation:

Give it a title
Select or add tags (optional)
Check the boxes depending on whether you wish to Add selected records immediately or Allow access to authenticated users

Click Create

Faculty members may use NPVRC Presentations to create PowerPoint Presentations and integrate these slides into their existing PowerPoints for teaching:
From the Actions menu at right, Select PowerPoint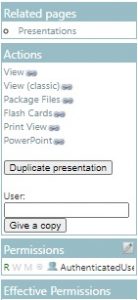 2. From the Options menu, Select Options

3. Choose a PowerPoint template. A template named single-image from the dropdown menu will give you a full slide-sized image on a gray background with NPVRC image metadata in the Notes field.
4. Click Update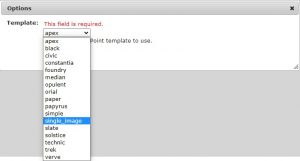 5 Click Download PowerPoint file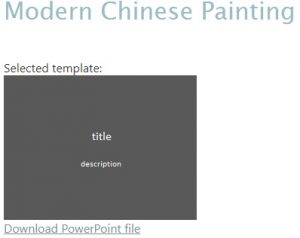 Below is a screen shot of the resulting PowerPoint file: